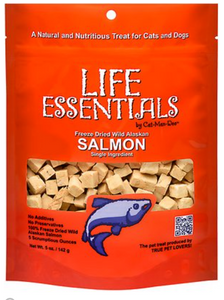 Single ingredient cat treats is the best for your feline. Life Essentials, made by Cat-Man-Doo is an all natural salmon treat that only has one ingredient - salmon. It's freeze dried and can be re-hydrated with water for a tasty kitty snack. No additives or preservatives, you know you're giving the best possible treat. 
Size: 2 ounces or 5 ounces 
No additives
No preservatives
100% Freeze Dried Salmon
Can be safe for dogs as well.