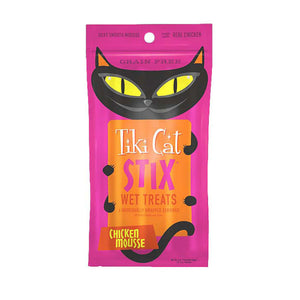 The newest crave, Tiki Cat Stix wet cat treats are an awesome way for your kitty to enjoy a treat. It comes in 6 individual serving pouches and is filled with a delicious chicken mousse. Cut it open, squeeze and watch your cat devour this cat treat. If your cat only wants a few licks, put it in the fridge for later and now your cat has a nice little treat popsicle on a hot summer's day. You can also squeeze the mousse on top of some wet or dry food as a delicious topper!
Size: Comes in 6 - 05. oz individually wrapped pouches.
Flavor: Chicken Mousse
Ingredients: Chicken broth, chicken, dried egg, natural tuna flavor, natural chicken flavor, xanthin gum, fish extract, and salt.