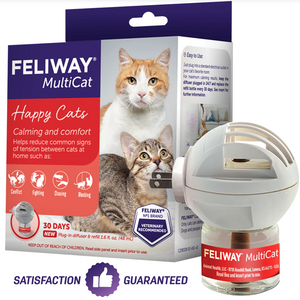 Recently adopt a new kitty or have a cat that is spraying or scratching our expensive furniture? The Feliway diffuser emits a pheromone that has a calming affect on cats. If your cat has behavioral issues, this product may help. The pheromone diffuser has proven results in 9 out of 10 cats based on clinical studies.
Size: 48 mL refill + Diffuser included

Covers up to 700 ft.

Clinically proven - #1 recommended brand by Veterinarians.

Helps with scratching, fears, changes, and urine spraying.

Great for spraying inside carriers for vet visits and travel.

Ingredients: F3 feline facial pheromone analogue (2%) and isoparaffinic hydrocarbon.