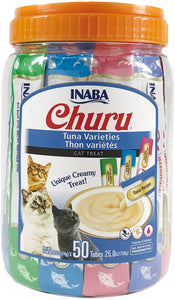 Inaba Churu Tube Treats Tuna Variety Jar - 50 Count - Just Cats
Treat your favorite feline to the scrumptious flavors and wholesome nutrition of Inaba's Churu Tuna Puree Variety Pack. It comes with 50 individually wrapped tubes of creamy, purr-worthy puree in four lip-smacking flavors—Tuna, Tuna with Clam, Tuna with Scallop, and Tuna with Crab. Each recipe is rich in moisture, so your paw-tner can get the hydration she needs in her diet to support her overall health. And with zero grains, artificial preservatives or colors, you can feel good feeding Inaba's lickable cat treats to your furry purr-incess! Simply tear the tube open and squeeze to feed by hand, pour in a bowl or use as a tasty topper for your kitty's favorite kibble.
Key Benefits
100% grain-free, so cats with sensitivities and on diet restrictions can enjoy Inaba Churu cat treats, too!
High in moisture to help add healthy hydration to your pet's diet.
Made without artificial preservatives or colors because your kitty deserves real nutrition.
Each recipe comes in a convenient tube to help prevent messes and spills.
A great treat for disguising your cat's pills.